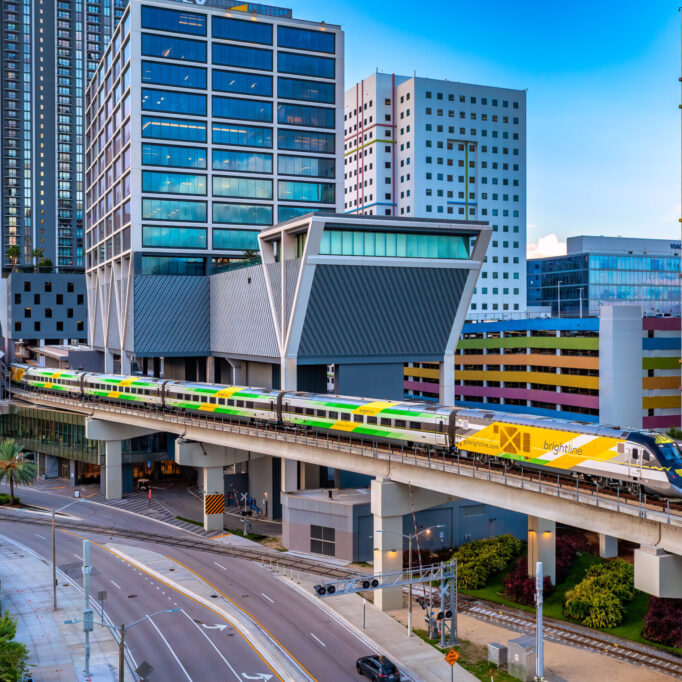 RTA 2022 Regional Leadership Tour to South Florida
Presented by GoTriangle and the NC Railroad Company
Tuesday, March 29 – Thursday, March 31, 2022
Our honorary tour co-chairs – Raleigh Mayor Mary-Ann Baldwin, NCDOT Secretary Eric Boyette, and RTA chair Harold Hicks with RTI International – along with each of our 80+ elected, transportation, business, and community leader attendees – were pleased to lead a successful, engaging tour that advances the multimodal future of our region and state.
The 13th RTA regional leadership tour consisted of briefings, presentations, and field visits in Broward, Miami-Dade, and Palm Beach counties in South Florida that highlighted initiatives and perspectives to inform our region's thinking, and our future. The tour focused on regional commuter rail, intercity passenger rail, bus rapid transit (BRT), transit station design and development, freeways and boulevards, linear park facilities, micromobility, climate adaptability and resilience, mobility innovations and funding, and more. Click here for a detailed agenda.  We will post presentation decks and images from the tour in early April 2022. View media coverage here and here. You can also view the Powerpoint slides from Wednesday, March 30 Morning and Afternoon sessions along with Thursday, March 31 Morning and Afternoon sessions.
The primary purpose of the RTA 2022 Regional Leadership Tour to South Florida — and all RTA regional leadership tours — is for the public and private sectors to demonstrate a shared commitment to learning together for the future of the region.
Honorary co-chairs of the RTA 2022 Regional Leadership Tour to South Florida:

Mary-Ann Baldwin
Mayor of Raleigh

J. Eric Boyette
NCDOT
NC Secretary of Transportation

Harold Hicks
RTI International
RTA chair
"There is no better way to learn about travel options for our growing region than to experience them firsthand. The RTA South Florida tour will give us the opportunity to see and learn about various forms of transit and to inform our thinking about multimodal investments back home in North Carolina."
— Mary-Ann Baldwin
Mayor of Raleigh
Honorary co-chair, RTA 2022 Regional Leadership Tour to South Florida
"Regional business leadership means service – a heightened responsibility for inclusion, purpose, action, and growth. We look forward to coming together and learning together with our elected and transportation partners as we focus on the future of our growing region."
— Harold Hicks, RTI International
Chair, Regional Transportation Alliance
Honorary co-chair, RTA 2022 Regional Leadership Tour to South Florida
"So excited about this opportunity to see commuter rail firsthand with a successful model of the integration of land use and transit, as well as a great time to connect with new and old friends during the RTA 2022 Regional Leadership Tour to South Florida!"
   — Sig Hutchinson
Chair, Wake County Board of Commissioners
Chair, GoTriangle Board of Trustees
The regional business community looks forward to welcoming more than 75 elected, transportation, and community leaders to South Florida, where we will have an opportunity to see, experience, discover, and learn together about mobility options and lessons for our growing market."
— Joe Milazzo II, PE
Executive Director, Regional Transportation Alliance
Event sponsors
Presenting sponsors
GoTriangle
North Carolina Railroad Company
Tour sponsors
Atkins
HDR
Kimley-Horn
Research Triangle Foundation of North Carolina
WSP
All sponsors of the RTA South Florida tour are members of the RTA.
Sponsorship
Tour Sponsor  ($2,000)
– Company name recognition on event webpage, promotional emails, and tour agenda
– Name and verbal recognition throughout 3-day tour
– Eligibility to register an additional attendee; see tour registration policies below
Tour registration cost not included in sponsorship pricing
Tour sponsors must be a member of the Regional Transportation Alliance
To sponsor: sign-up online here or email joe@letsgetmoving.org.
Registration
Recording of RTA tour preview meeting for currently registered attendees:  click here (attendees can request passcode from Jacob Rigg if need be).
Please note the following tour registration policies, effective February 11, 2022:
Limit two (2) tour registrations per RTA Gold member company
Limit one (1) registration per all other RTA private sector member companies
Limit one (1) registration per non-RTA member company
Public sector partners may register up to three (3) attendees; elected and appointed officials excepted
Tour sponsors may request registration for one additional attendee
Registration is first come, first served under the policies above; space is limited and not guaranteed
See tour pricing below.
Note:  registration is now closed. Be sure to look for more information about the next RTA tour or major event (RTA Transportation Breakfast).
Tour pricing
RTA 2022 Regional Leadership Tour to South Florida
RTA members — each attendee $1995
RTA public sector partners — each attendee $1795
non-RTA members — each attendee $2195
Tour registration includes 2 overnight hotel stays at group hotel in Fort Lauderdale (Tue March 29 and Wed March 30), welcome reception on Tuesday 3/29, all meals and snacks on Wednesday 3/30 including evening reception, all meals and snacks through lunch on Thursday 3/31, all transportation within South Florida during the tour (other than to/from airport), and all conference materials — plus excellent regional leadership conversations and insights.
Airfare to Fort Lauderdale-Hollywood International Airport (FLL) or Miami International Airport (MIA) is not included; however, RTA event staff can provide guidance on flight options upon request. Attendees do not need to contact the group hotel (Riverside Hotel in Fort Lauderdale on Las Olas Blvd.) as RTA event staff takes care of these logistical arrangements for all participants.
Tour timing and agenda – Tour events will commence no earlier than 6 pm on Tuesday, March 29, and conclude no later than 4 pm on Thursday, March 31.  Click here for a tour flyer, which includes a summary agenda on the reverse side.
Refund policy – No refunds after February 10, 2022. However, name changes within the same organization will be permitted after this date.
Please note:  RTA requests that all attendees of the RTA 2022 Regional Leadership Tour to South Florida be fully vaccinated.
RTA membership
Interested in joining the region's business leadership group for transportation? Contact us for information about RTA membership at sales@letsgetmoving.org.
Past RTA tours
RTA has held a variety of leadership briefings and tours since 2005. Click here for more information.
RTA
Regional Leadership Team
RTA Gold Members
Clark Nexsen
Duke Energy
Google
Greater Durham Chamber of Commerce
HDR
IBM Corporation
Kane Realty
Kimley-Horn
McAdams
MetLife
Pinnacle Financial Partners
Raleigh Chamber
Raleigh-Durham Airport Authority
Red Hat, Inc.
Research Triangle Foundation of North Carolina
Smith Anderson
Summit Design and Engineering Services, PLLC
United Therapeutics
VHB
Wake County Economic Development  (EDGE6)
Wetherill Engineering, Inc
WSP
RTA Silver Members
AECOM
AT&T North Carolina
Bolton & Menk
Capitol Broadcasting Co., Inc.
Chatham Park / Preston Development
Citrix
Coastal Federal Credit Union
Credit Suisse
Dominion Energy
Duke University
Fidelity Investments
First Citizens Bank
First National Bank
Fox Rothschild LLP
FUJIFILM Diosynth Biotechnologies
GlaxoSmithKline
GoTriangle
Greater Raleigh Convention and Visitors Bureau
KDC
Lenovo
Martin Marietta
Monteith Construction
ms consultants, inc.
North Carolina Railroad Company
North Carolina State University
Novo Nordisk
Ramey Kemp & Associates, Inc.
RATIO
RTI International
SAS Institute Inc.
Stewart
STV Inc.
The Special Event Company
The Sunrock Group
The Umstead Hotel and Spa
Truist
UNC Chapel Hill
UNC Health
Wake Technical Community College
RTA Senior Regional Partners
Capital Area MPO
Durham-Chapel Hill-Carrboro MPO
City of Durham
GoRaleigh / City of Raleigh
GoTriangle
Raleigh-Durham Airport Authority
Town of Cary
Town of Morrisville
Triangle J Council of Governments
RTA Bronze members
Alfred Benesch & Company
Atkins
Avison Young
Biogen
Clancy & Theys Construction Company
CPL Architecture and Engineering, PC
Dewberry
Gregory Poole Equipment Company
Highwoods Properties
McKim & Creed
PNC
Strada Architecture
Trinity Capital Partners
WakeMed Health & Hospitals
York Properties, Inc./McDonald-York Building Company