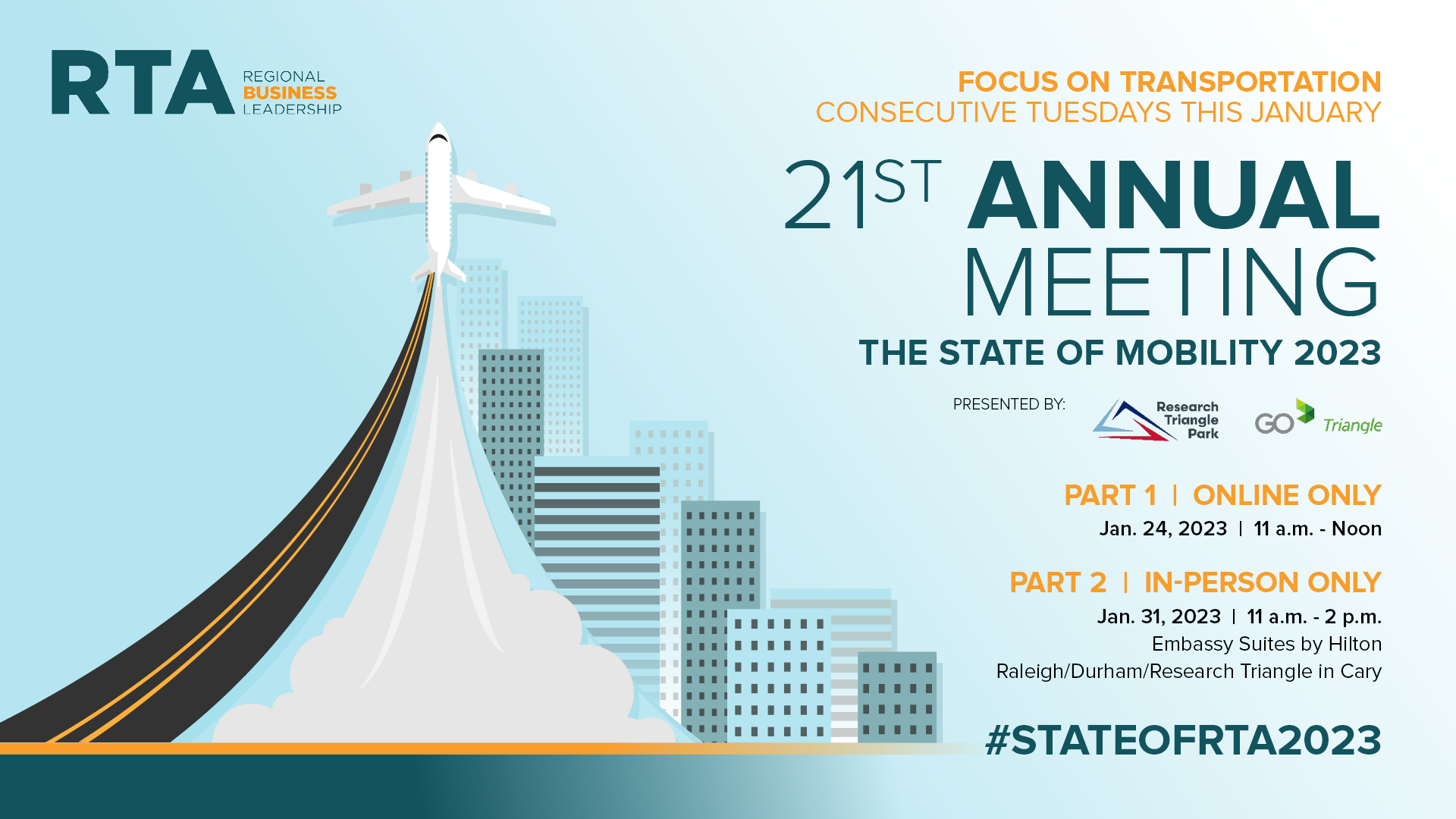 RTA 21st Annual Meeting:  The State of Mobility 2023
Part 1 – online only, Tuesday, January 24, 2023, 11 a.m. – 12 noon
Part 2 – in-person only, Tuesday, January 31, 2023, 11 a.m. – 2 p.m. at the
Embassy Suites by Hilton Raleigh-Durham-Research Triangle in Cary
Post-event resources – part 1  (January 24, 2023 — online)
View the recording of part 1 here
Post-event resources – part 2  (January 31, 2023 – in-person)
Please call 919.664.7062 or  jacob@letsgetmoving.org with questions.
Event sponsors -- RTA 21st annual meeting
Presenting sponsors
Research Triangle Foundation of NC

GoTriangle
Event sponsors
First Citizens Bank
IBM Corporation
The Sunrock Group
Town of Cary
Credit Suisse
RTA 21st Annual Meeting:  The State of Mobility 2023

Tuesday, January 24, 2023 (11 am – noon, online only) and Tuesday January 31, 2023 (11 am – 2 pm, Embassy Suites by Hilton Raleigh/Durham/Research Triangle in Cary)
Confirmed speakers:
David Byerley, Truist
Eric Curry, GoTriangle
Harold Hicks, RTA 2022 Chair, RTI International
Jay Irby, RTA Chair-Elect, First Citizens Bank
Shaylah Nunn Jones, Novo Nordisk
John Kane, Kane Realty
Kevin Lacy, NCDOT
Michael Landguth, RDU Airport Authority
Chuck Lattuca, GoTriangle
Brett LeCheminant, Credit Suisse
John McGeary, First National Bank
Joe Milazzo II, RTA Executive Director
Scott Ralls, Wake Technical Community College
Julia Wright, Dominion Energy
Join more than 400 regional leaders for insights on current and emerging trends on transportation at the RTA 21st annual event — both online and at a luncheon, on consecutive Tuesdays in January. The RTA State of Mobility event is a two-part, can't miss regional business leadership gathering of RTA members, elected officials, transportation partners, and other colleagues from our region and state. Both parts of the 2023 event will include an interactive discussion opportunity that focuses on upcoming, ongoing, and potential regional transportation priorities and the Accelerated Metropolitan Mobility Strategy for the Triangle's future.
Presenting Sponsor ($5,000)
Event "presented by" your company
Opportunity to participate in event agenda
Reserved parking with firm logo
Prominent recognition at event and on RTA event webpage
Plus all Event Sponsor benefits below
Restricted to RTA Sustaining Gold or higher members, Senior Regional Partners, and other public sector partners

Event Sponsor  ($999)
Company name displayed on event signage and event agenda
Name and verbal recognition at event
Name recognition in RTA promotional e-mails and on RTA event webpage
Registration for eight (8) participants at event with at-table name recognition
RTA membership is not required to serve as an Event Sponsor
Note:  RTA Gold, Silver, and Bronze memberships also include recognition benefits at and tickets to all events
RTA Gold members receive 8 tickets included with their membership investment.
RTA Silver members, Senior Regional Partners, and Bronze members receive 2 tickets included with their membership.
All RTA Gold, Silver, and Bronze members also receive recognition at the event.
RTA Standard members have 1 ticket included with their membership.
Additional RTA member tickets are $75
Non-RTA member tickets are available for $150
Nonprofit partner tickets are $75
Public-sector partner/elected official tickets are $45
Note:  RTA reserves the right to limit event attendance at any time depending on pandemic conditions
No registration refunds after January 19th, 2023.
Sponsorship options
RTA is a regional program of the Raleigh Chamber, which has determined that this event is permitted under Section 138A-32(e)(1)c of the General Statutes.
RTA
Regional Leadership Team
RTA Gold Members
AECOM
Clark Nexsen
Duke Energy
FORGE Communications
Google
Greater Durham Chamber of Commerce
HDR
IBM Corporation
Kane Realty
Kimley-Horn
MetLife
Pinnacle Financial Partners
Raleigh Chamber
Red Hat, Inc.
Research Triangle Foundation of North Carolina
Smith Anderson
Summit Design and Engineering Services, PLLC
United Therapeutics
VHB
Wake County Economic Development  (EDGE6)
Wetherill Engineering, Inc
WSP
RTA Silver Members
AT&T North Carolina
Amgen
Bolton & Menk
Capitol Broadcasting Co., Inc.
Chatham Park / Preston Development
Citrix
Coastal Federal Credit Union
Credit Suisse
Dominion Energy
Duke University
Fidelity Investments
First Citizens Bank
First National Bank
Fox Rothschild LLP
FUJIFILM Diosynth Biotechnologies
Gannett Fleming, Inc.
GoTriangle
Greater Raleigh Convention and Visitors Bureau
KDC
Lenovo
Martin Marietta
McAdams
ms consultants, inc.
North Carolina State University
Novo Nordisk
Raleigh-Durham Airport Authority
Ramey Kemp & Associates, Inc.
RATIO
RTI International
SAS Institute Inc.
SEPI
Stewart
STV Inc.
TowneBank
The Sunrock Group
The Umstead Hotel and Spa
Truist
UNC Chapel Hill
UNC Health
Wake Technical Community College
York Properties, Inc./McDonald-York Building Company
RTA Senior Regional Partners
Capital Area MPO
Durham-Chapel Hill-Carrboro MPO
City of Durham
GoRaleigh / City of Raleigh
GoTriangle
Raleigh-Durham Airport Authority
Town of Cary
Town of Chapel Hill/Chapel Hill Transit
Town of Morrisville
Town of Holly Springs
Triangle J Council of Governments
RTA Bronze members
Alfred Benesch & Company
Atkins
Biogen
Clancy & Theys Construction Company
CPL Architecture and Engineering, PC
Dewberry
Gregory Poole Equipment Company
HH Architecture
Highwoods Properties
McKim & Creed
PNC
Strada Architecture
Trinity Capital Partners
WakeMed Health & Hospitals