I-40 Transit Priority Shoulder – bringing the region together, faster
March 18, 2021
Posted by:

Joe Milazzo II

Category:

Blog
RTA is focused on advancing a transit priority shoulder (TPS) pilot for I-40, our region's most important freeway.
An I-40 Transit Priority Shoulder would speed regional transit, quickly and reliably — in particular between the Chapel Hill area and the rest of the Triangle region.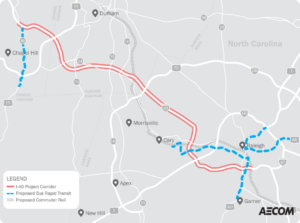 RTA Leadership Team member AECOM is working on a very promising pre-feasibility study for RTA of an I-40 TPS concept, which would provide for transit priority use up to 45 MPH in a widened left shoulder, adjacent to the median barrier, and next to slower-moving traffic on the Interstate during peak periods.
An important benefit of the TPS concept would be to provide improved transit connectivity from Chapel Hill, Orange County, and southwestern Durham County to the rest of the central and eastern Triangle area — including Research Triangle Park, southern Durham, RDU International Airport, and Wake County.
The AECOM study is actually examining the entire length of I-40 between the future Chapel Hill north-south BRT and Raleigh/Wake south BRT corridors. While that distance along I-40 is more than 25 miles long, regional transit buses would also benefit from much shorter trip lengths via the TPS. For example, buses traveling only 5 miles in a transit priority shoulder adjacent to the median could still save more than 10 minutes versus the current Bus On Shoulder System (BOSS) along the outside shoulder under certain prevailing traffic conditions. That is a remarkable time savings, especially as BOSS itself can save transit buses time vs. congestion in the "regular" I-40 lanes.
Kudos to AECOM for their work on this initiative, which is a natural complement to the just-completed Freeway And Street-based Transit (FAST) study as well as ongoing commuter rail efforts. In addition, we thank our partners at NCDOT for exploring a preliminary cost estimate for part of a potential pilot TPS segment from RTP towards Chapel Hill; HNTB is assisting them as part of their broader express lanes study work along the Interstate.
The regional business community is excited about the potential of a transit priority shoulder for our region's "main street". RTA will work with several public and private partners including our member chambers of commerce, as we seek rapid implementation of a transit priority shoulder pilot along I-40 in southern Durham County.
Let's bring the region together, faster, and let's get moving,
Joe
Joe Milazzo II, PE
Executive Director, Regional Transportation Alliance
RTA is the voice of the regional business community on transportation in the Research Triangle area.
RTA represents more than 100 leading businesses and 25 member chambers of commerce in central and eastern North Carolina.