Member Briefing: March 31
March 31, 2023
Posted by:

Jacob Rigg

Category:

Member briefing
Honoring the Legacy of RTA's Founding Co-Chair Robert Ingram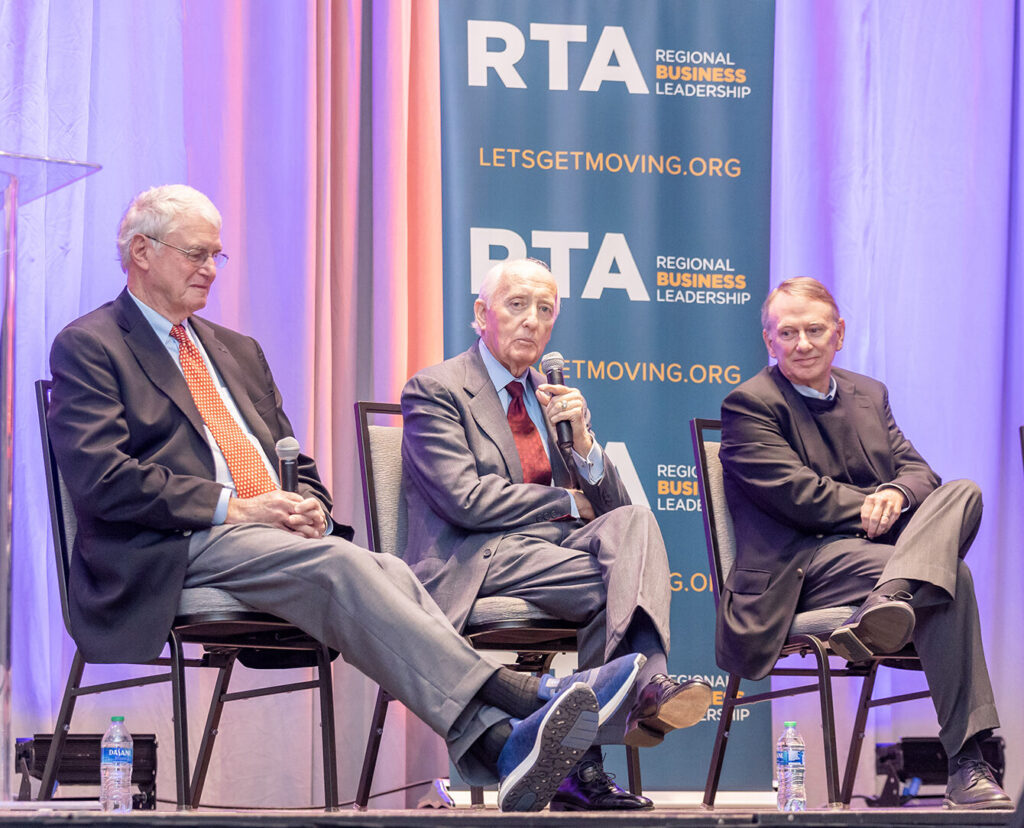 RTA joins the entire greater Triangle community in mourning the loss of Robert A. Ingram. As CEO of GlaxoWellcome (later GSK) and later as chairman of the board of directors for companies including BioCryst Pharmaceuticals and Novan, Inc., Bob tirelessly championed the pharmaceutical industry's efforts for new medicines to make people's lives better. His work as RTA founding co-chair was no different.
Smedes York, chair of the York Companies, and fellow RTA founding co-chair, offered the following on Bob's passing. "It was a privilege to serve with Bob as one of the two founding co-chairs of RTA. As a leader he was informed, inclusive and inspirational. Despite his many accomplishments he was always approachable. He set a high standard in all that he did. Our community is in a better place because of Bob."
Robert's obituary includes the following:  "Bob lived his creed of prioritizing his life around family, faith and friends. His legacy lives on in the hearts and minds of those he touched and so willingly mentored."
On behalf of the entire RTA membership, we thank Bob for his founding and sustaining leadership. Let us honor his memory by our actions in service to this region.
Celebrating with the community as 540 Southern Wake freeway nears completion 
This past week, RTA chair Jay Irby of RTA Leadership Team member First Citizens Bank and RTA equity and workforce chair Dr. Scott Ralls of fellow RTA Leadership Team member Wake Technical Community College welcomed more than 50 business leaders, elected officials and transportation partners to our RTA 540 field visit. The event was an opportunity for the regional business community to celebrate the progress of the Triangle's largest-ever infrastructure project, the southern Wake freeway portion of the Complete 540 project, which will open next year.
The 540 field visit was a collaboration between RTA, the NC Turnpike Authority, NCDOT, and our hosts at Wake Tech. In addition, several 540 project team firms provided assistance and support for the day, including RTA Leadership Team member firms WSP, Summit Design and Engineering, HDR, and Gannett Fleming. The 540 project will connect existing 540 at Apex/NC 55 with I-40 near Garner and Clayton; we visited two sites along the southern Wake freeway corridor, known as Complete 540 phase 1, during the field visit.
The spring 2024 opening of the phase 1 segment of Complete 540 — which will link I-40 with itself, provide a true congestion relief alternative and serve as a linchpin in our resilient mobility network — will be a game-changing multimodal project for this region. You can view media coverage of the event here, and read more about this Complete 540 phase 1 project as well as some photos from the event courtesy of NC Turnpike Authority in this week's blog.
Thank you, as always, for your membership and support. And thank you to Bob Ingram for helping to founding this organization and establishing the leadership pathway for all of us to follow.
Let's get moving,
Joe
RTA Executive Director
Click here for prior RTA Member Briefings and RTA Blogs.